So, this may well be jumping on the bandwagon, but I thought id see how the Royal Wedding could be used as a geographical point for your summer essays. Whether you are a Royalist or Republican, going to be glued to the TV on friday or avoiding it at all costs, what does this Wedding mean for the UK?
Visitors
Fact - average tourist spending in the UK is £65 a day
For the wedding of Charles and Diana, 0.6 million people visited London for at least the day, that was 30 years ago, before the advent of the cheap flight and the Eurostar - if the same number come to London this weekend, and it is likely to be higher, this would generate £40 Million in revenue

There has been a 28% surge in Eurostar bookings for this weekend, in comparison to the same weekend last year

There has been 121% increase in Hotel bookings in London

There is a predicted 20% rise in tourism revenue this year, taking the UK's earnings from tourism from £500 million to £600 Million

BUT the bill is yet to come in for public spending on the wedding, will it balance out?
Social Media/Communications
Charles and Diana's wedding was the most watched TV event ever, with 1 billion viewers in 1981, back when we had TV's shaped like a large box, the internet was a sci-fi movie phenomena, and streaming unheard of.

There are now 162 million webpages discussing the wedding

Google has produced a snazzy fly through of the wedding route in google earth GIS-Tastic:
regardless of your feelings, 1/8 of the 30 million tourists to this country spend money on Royal attractions (thats 3 750 000 people every year who pay to do something with a Royal theme)

The BRIC countries are leading the way in visiting the UK for the Royal flavour with 83% of all Russians visiting Buckingham Palace

60% of Americans opt for royal outings. Europeans spend the least - an average of £400 a visit - while those from the Middle East spend almost four times that, at an average of £1,500 per visit

Charles and Diana's wedding doubled UK tourism for 1981
Tesco has sold 120 miles of union jack bunting

Ebay reports a rise of 12,491% on Royal Memorabilia this year

Tesco has also sold 1300 tonnes of Jersey Royal New Potatoes compared to a total of 250 tonnes last year - good if you are growing them!

Goldsmiths Jewellers are predicting a 50% rise in engagements this spring - lets hope their gold rings are fairtrade like Will and Kates were rumoured to be (I liked this rumour - it did raise some awareness of the issues surrounding gold extraction - in fact, the Royal family has a small amount of Welsh gold in their vault which all royal wedding rings are traditionally made from)

Beer - an estimated extra 100 million pints will be pulled this weekend, hopefully mitigating the 3.8% decline in Beer sales in the UK this quarter in

to last year

Memorabilia - who doesnt want a plate like this one? (seriously, this is big business)
An extra bank holiday presents a cost to small businesses and employers, do you pay employees or make them take it as holiday, and loose a days business

Many people have opted to take the three days (Yes those that we are at college for!) as holiday, as effectively, you would then have 11 days in a row off work, only using up three days holiday. For many small businesses this would be catastrophic
With all the coverage, and pictures of London being taken and circulated this weekend, there is an excellent marketing opportunity for tourist thinking of coming to London, and many will be convinced to come visit.

The extra street cleaning, roadworks and preparation for the Wedding is timed well to help preparation for the Olympics

Some visitors will be staying longer, perhaps until the end of the games, and they have to spend money!
Whatever your views, a wedding is a nice, spirit raising happy thing to celebrate, and in these times of austerity, job cuts, funding cuts and conflicts all around the world, a little good old fashioned cheer is a good thing.

The UK has some negative press, we are involved in a new conflict in Libya that there are some very divided opinions about, this is a purely positive news article that will put the UK in the frontline of the media.

There is however, an increased risk to some areas, the concentrations of people in towns and cities does provide a target.

The younger generation have a closer link to William and Kate than any of the other Royals, and a happy modern fairytale marriage provides a good role model, and as a country, we could do with some nice healthy young role models around.

The "copycat" wedding, is already available in China, further evidence for the Westernisation of Culture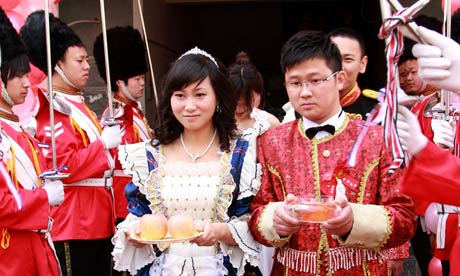 So, whatever you are doing (the correct answer is "revising for my mock!"), enjoy the day, to be honest, there are only a couple of these in your lifetime, and its probably worth a few minutes of your time at least, if you can find any fantastically weird and wonderful geography links let me know by leaving me a comment!